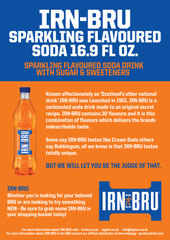 Are you looking for a delicious and refreshing drink to quench your thirst? Look no further than the 6-Pack IRN-BRU Cans! This iconic Scottish beverage is a must-try for anyone who appreciates a unique and flavorful soda. In this blog post, we will explore the reasons why the 6-Pack IRN-BRU Cans should be your go-to choice for a refreshing beverage.
What makes the 6-Pack IRN-BRU Cans so special?
First and foremost, the 6-Pack IRN-BRU Cans offer a one-of-a-kind taste that is loved by millions around the world. With its secret recipe dating back to 1901, this carbonated soft drink is a true Scottish classic. The combination of flavors, including a hint of citrus and a touch of sweetness, creates a unique and refreshing taste that is hard to resist.
Furthermore, the 6-Pack IRN-BRU Cans are perfect for any occasion. Whether you're enjoying a picnic in the park, hosting a backyard barbecue, or simply relaxing at home, these cans are convenient and easy to carry. You can enjoy the refreshing taste of IRN-BRU wherever you go.
Why should you choose the 6-Pack IRN-BRU Cans?
There are several reasons why the 6-Pack IRN-BRU Cans should be your beverage of choice. Firstly, they are made with high-quality ingredients, ensuring a superior taste and a satisfying experience with every sip. Additionally, these cans are carbonated to perfection, providing a delightful fizz that enhances the overall drinking experience.
Moreover, the 6-Pack IRN-BRU Cans are a great alternative to traditional sodas. They contain less sugar and fewer calories compared to many other carbonated beverages on the market. So, if you're looking for a guilt-free option that doesn't compromise on taste, these cans are the way to go.
Experience the magic of IRN-BRU today!
Now that you know why the 6-Pack IRN-BRU Cans are a fantastic choice, it's time to experience the magic for yourself. Treat your taste buds to this delightful Scottish beverage and indulge in its unique flavors. Don't miss out on the opportunity to enjoy a refreshing drink that has stood the test of time.
Ready to purchase your 6-Pack IRN-BRU Cans? Click here to order now and have them delivered straight to your doorstep. Trust us, once you try IRN-BRU, you'll never want to go back to ordinary sodas again!